Read about KEIRIN's role in the Olympics.
Keirin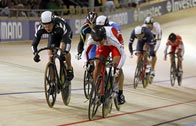 Keirin Follows Judo into Olympics
Olympic keirin started with the 2000 Sydney Games, when it became the second Olympic event after judo to originate from Japan. Keirin races use a power-assisted bicycle as a race pace-setting vehicle (the pacer). From the start of the race until the pacer leaves the track, the cyclists vie strenuously against each other to capture and hold the best position. The last lap is a final spurt that decides the outcome. The key difference between the Japanese and Olympic versions of keirin is the lack of cyclist lines in the Olympic version. So how do Japanese cyclists approach an event that demands a different approach from the Japanese KEIRIN they are used to? The answer makes compelling viewing.

Team Sprint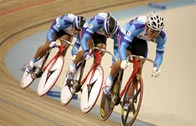 Highly Trained Teamwork Key to Becoming World Champions
The team sprint event consists of time trials for teams of three cyclists. The lead cyclist leaves the race after each lap, until the last remaining cyclist competes for time. This event is well suited to Japanese KEIRIN cyclists, since their usual racing style focuses their energies on carrying out a particular role within the line. In the 2004 Athens Olympics, the team of Tomohiro Nagatsuka, Toshiaki Fushimi and Masaki Inoue earned Japan its first silver medal at an Olympic track cycling event.

Sprint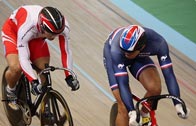 Most Popular Olympic Track Cycling Event
The sprint is a race among two to four cyclists who start simultaneously at the sound of a whistle and race to the finish line. The key to this event's popularity is watching the skillful techniques used by the cyclists as they scramble against each other. Cyclists barrel through sudden course changes at full speed, employing outstanding skill to gain an edge. One advanced technique used is standing still for purposes of positioning. To stand still, the cyclist rises from the saddle, uses the slope of the bank to maintain balance, and comes to a complete stop immediately using only the bicycle's two narrow tires. Most of the sprint is a showcase of the various techniques cyclists use to gain an edge, then the last 200 meters is a final sprint to the finish at top speed. With each race chock full of interesting cycling techniques, this event is a favorite with fans the world over.