Cyclist Managers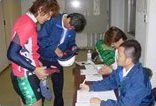 Cyclist management is the work of taking care of cyclists competing in KEIRIN races.
Cyclist managers check the physical condition of cyclists on the day before each race, and inspect their helmets and shoes.


Bicycle Inspectors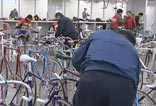 Cyclists generally perform routine bicycle maintenance themselves, but the bicycle inspections carried out on the day before each race are left to special bicycle inspectors. After inspection, the inspectors store each bicycle in order of appearance, and watch over them until needed.


Program Producers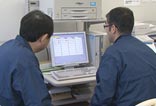 The program producers decide which cyclists will compete against each other in each race. Producers use program cards containing all the cyclist information they need to simulate various combinations and carefully decide the final lineups.


Judges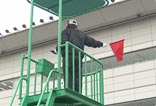 The judges are responsible for starting and judging each race. Judges perform a wide range of important tasks during races. They supervise the warmup phase, sound the starter signal, monitor and judge cyclist actions, determine the finishing positions, measure track times and discuss rule violations.


Mediators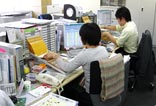 Mediation is the job of assigning the cyclists who will take part in each race. Mediation is done by JKA project management team members in line with the event overview, program outline or requested cyclist lineup. Mediators make their decisions based on factors such as schedules, cyclist performance characteristics, race scores and number of mediations.